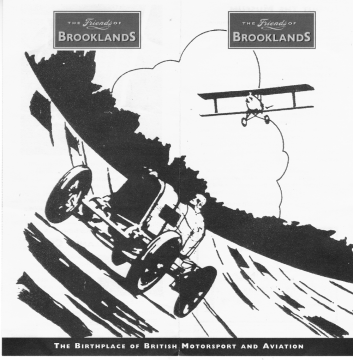 While in England this past winter with a few days to spare I took the opportunity to visit Brooklands, the world's first purpose-built race track. It was also the world's first high-banked oval. Built in 1907 by wealthy local land owner Hugh Locke King, the Brooklands outer oval measured 2.76 miles with two banked corners and one right-handed kink. There were a series of infield road courses and parts of the track were used as a landing strip so that through World War II the track was the home of both the British motor racing and aviation industries.

About a tenth of the original Brooklands site remains, including a portion of the Members Banking and most of the old paddock and garage area. The main garages and the club house still are there, slowly being refurbished by the Brooklands Museum Trust which was established in 1987. A variety of vintage race cars and airplanes are on display and you can take a walk up the old banking which is steeper and wider than any modern superspeedway, but very bumpy with no guardrail or wall. Also worth a climb is the acceleration hill just inside the remnants of the banking. The acceleration hill was used for test and timed runs and sometimes was part of the many different infield circuits.

The first British or Royal Automobile Club Grands Prix were run at Brooklands in 1926 and '27 and many races and record attempts were held at the track. A 500-mile race was run on the outer track from 1929-'36 and English hero John Cobb won the race in 1935 aboard his mighty Napier-Railton averaging 121.28 mph. Cobb set an outer circuit lap record that year at 143.44 mph. Land speed record holder Malcolm Campbell was another regular competitor at Brooklands and Campbell also demonstrated his record-setting Bluebird at the track.

Both race car builders like ERA and aircraft manufacturers like Vickers maintained workshops at the track and attending races at Brooklands was considered a very socially correct thing to do. Indeed, the place quickly developed a following under the princely theme: 'The right crowd and no crowding.'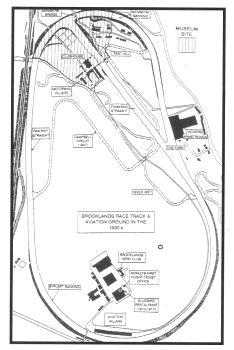 Even so the track, which was made of large sections of sandstone concrete, was always notoriously bumpy and began to seriously deteriorate. By the late thirties it was full of potholes and WWII put an end to Brooklands' life as a racetrack. The place was turned into a weapons test and construction site as the British aircraft industry racheted itself up to produce the fire and bombing power to defeat Nazi Germany. The Dam Busters famous bouncing bomb as well as 'Big Boy' and 'Little Boy', the largest conventional bombs dropped in WWII, were developed at Brooklands by British aeronautical design genius Barnes Wallis.

After the war racing never returned to the old track although a series of British airliners--Viscount VC10, BAC I-II and Concorde included--were developed and built at Brooklands. The center of British racing moved north to Silverstone, a disused airfield in the middle of rural Northamptonshire, while urban sprawl began to surround Brooklands. In the forties and fifties a housing development was built immediately adjacent to the Members Banking and today most of the site has been rebuilt with new office and industrial blocks. Access to a supermarket now occupies what was once the Byfleet Banking.

But the spirit of Brooklands lives on with McLaren located in nearby Woking and the roots of a number of other Brit race car builders located within miles of Brooklands, including Cooper which spawned both Brabham and McLaren as well as the rear engine revolution of the late fifities and early sixties. After Heathrow airport was opened it replaced Brooklands as the primary air hub for London and the combination of a rapidly expanding Heathrow and the racing cottage industries surrounding Brooklands meant it was a natural area to locate a race car-building shop.

Cooper started building cars in 1950 in Surbiton and moved to Byfleet, very close to Brooklands, in 1966, and the successful Vanwall F1 team of the fifties was based not too far away in Acton. Bruce McLaren Motor Racing started life in Feltham in 1963 and moved to Colnbrook a few years later before moving to Woking in 1981 after Ron Dennis bought the team. Eric Broadley and Lola moved from a London garage to nearby Slough in 1965 before moving out to the provinces in Huntingdon five years later. And Ken Tyrrell's F1 team ran for many years out of a little shop in Ockham only a few miles from Brooklands.

Also, legendary New Zealand racing journalist and raconteur Eoin Young ran his world-renowned bookshop for many years in East Horsley which is the next town over from Ockham. Eoin was equally famous for holding court with many racing personalities at his local pub, 'The Barley Mow'.

It's easy to drive to Brooklands and well worth a visit. The old track is not far from Heathrow. Drive west from the airport and take the M25 south to exit ten. Take the A3 east toward London and at the first roundabout follow the signs to the Brooklands Museum.