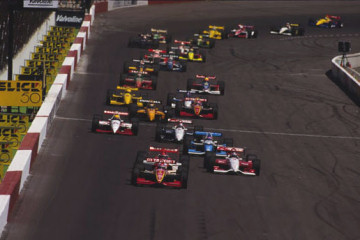 Over more than thirty years of covering automobile racing across the United States and around the world I've seen a number of major racing series go out of business. I covered the demise of the original, unlimited CanAm series in 1974 and watched the nails hammered into the coffins of Formula 5000 and the 'new era' CanAm series a few years later. Then came IMSA's failure, followed most recently by CART's bankruptcy. This year race fans are hoping Champ Car is rising from the ashes and I hope everyone has taken on board and properly understood some of the lessons of this litany of failures.

As is well-known, Indy or Champ car racing has been seriously, perhaps irretrievably damaged in recent years by a civil war, starting in 1996. That was the year Indianapolis Motor Speedway president Tony George created his own IRL (Indy Racing League) series in opposition to the existing CART (Championship Auto Racing Teams) Indy Car World Series. George inherited the Speedway when he turned thirty in 1990 and immediately started arguing with the CART team owners about control of the sport. George finally decided to take the Indy 500 out of the CART series and start his own, ovals-only series in 1996. George claimed he was going to cut costs and restrict technology as well as bring in more American drivers from the country's grass roots dirt track ranks.

Sadly, none of these goals have been achieved. In fact, George has failed abysmally in each of these departments. It would be fascinating to see an economic impact study of the damage done not only to the month of May itself in Indianapolis, but also to the teams, suppliers and component builders. Many, many people have been driven out of business since 1996 and open-wheel racing in this country has been decimated. It is now virtually impossible to sell any worthwhile sponsorship for any form of American open-wheel racing and young American drivers find it almost impossible to move up the ladder.

Paul Newman, co-owner of Newman/Haas Racing, probably ranks as the most diehard CART supporter. His partner Carl Haas entered one car at Indianapolis this year, but Newman refused to support the program or go to the 500. "I will not set foot back inside that place," he says. "The damage he's done to the sport is unconscionable. I'd love to see an economic impact study of the effects on the business in the city of Indianapolis for the month of May and another one of the effects on the racing industry in that town. I think the results of an economic impact study would shock everyone."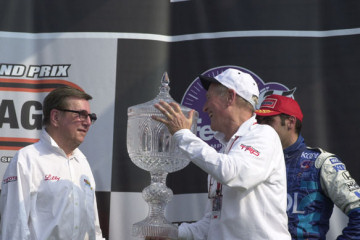 Bruce Barnes, the longtime agent for the Unser family, has been trying to re-publish my 1988 book, 'Unser, an American Family Portrait.' But he's been unable to find a publisher prepared to underwrite the project. "I've approached at least twenty publishers and there's been zero interest. Nobody cares. There's just no visibility for any of these guys anymore. I can't sell any endorsements for the Unsers. The only guy whose name has value in the market is Mario. He stands apart from all the rest of them.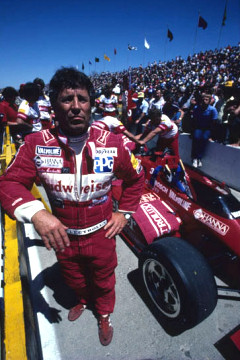 "Tony just doesn't get it does he?" Barnes adds. "He doesn't understand that he's ruined the entire business. I used to have a few hundred tickets and more every year for raceday for various guests and corporate clients. But that's all collapsed since the split. These days I've got maybe twenty-five people who want to go and none of them are heavy hitters. This year I called Peggy Swalls (the Speedway's vice-president of administration who's in charge of credentials) and asked if I could get some upgrades to better seats and she said, 'Sure. What do you want? We've got seats available anywhere you like.'."

Barnes [who passed away in 2005] agrees with Newman that an economic impact study would reveal some startling truths. "We all know that everyone's business in Indianapolis has been decimated from hotels and restaurants to cleaning services and all the vendors who used to sell so many collectibles during the month," Barnes said. "Those people are now basically out of business. And of course, most of the little guy teams have also gone out of business and God knows how many parts suppliers and component builders have been put of business as well."

Back in 1994 Tony George and then-IMS marketing director Bill Donaldson told me: "We could run golf carts around here and still fill the place." That's the level of contempt they had for the sport.

At one point Donaldson hammered on his desk. "They will learn," he said angrily. "The CART owners will learn the errors of their ways." Unfortunately everyone, save perhaps George, have dolefully learned their lessons.

In 1995 CART was the equal of NASCAR in domestic TV ratings and national media coverage. It had even begun to challenge Formula 1 in the worldwide market following the success of former F1 champions Emerson Fittipaldi and Nigel Mansell in the CART series. Fittipaldi won the CART championship in 1989 and Mansell took the CART title in 1993, helping CART pose the first signs of a credible international challenge to Formula 1's worldwide TV market.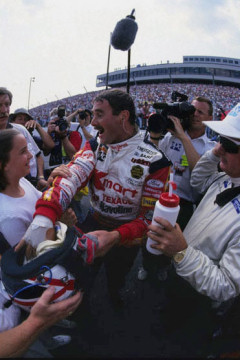 For a few years the IRL series appeared to go nowhere with a short schedule of races, small crowds, and few if any star drivers or teams. The Indy 500 fell into rapid decline as CART's drivers and teams ran their own races and the big teams and star drivers stayed away. Then in 2000, defending CART champion team owner Chip Ganassi decided to enter the Indy 500 and won the race with CART champion Juan Montoya. That started a creep of CART teams racing at Indy. Penske followed Ganassi in 2000 and in 2002 Penske became the first CART team to defect full-time to the IRL.

One of CART's biggest failures, among many, was the inability of the team owners to agree to a new engine formula during 2000 and 2001. Discussions among the team owners and engine manufacturers about a new engine formula had gone on for years. The four engine manufacturers competing in CART at the time--Ford/Cosworth, Mercedes/Ilmor, Honda and Toyota--had recommended a move to a smaller capacity turbocharged engine with the boost set around fifty-five inches. The theory was that this would permit the basic engine architecture to remain in place for many years with the boost limit to be reduced steadily over time to act as a constraint on inevitable increases in horsepower.

In effect, the same system had been used for many years with the 2.65 liter turbo formula with boost coming down progressively over thirty years. From unlimited boost in the USAC days the boost limit had come down by the turn of the century to less then forty inches--barely turbocharged, in fact. The engine manufacturers wanted to continue developing turbo engines because it was a unique formula, clearly different from Formula 1 or any other major form of racing. So the manufacturers put forward the idea of a smaller engine with more boost, an eminently sensible solution it seemed.

But as they tried unsuccessfully to work with Tony George on finding a way to reunite the two series CART's team owners dithered and prevaricated. Some of them thought CART should adopt similar engine rules to the IRL as a kind of olive branch but whatever their reasoning the team owners put off a decision and damaged their working relationship with the competing engine manufacturers. Then in July of 2001 CART ran into deep trouble with an extremely tendentious dispute over the 'pop-off' valve, the device that controls the amount of boost pressure delivered by the turbocharger. The dispute blew-up at that year's Detroit race wherein Toyota accused Honda and Ford/Cosworth of cheating the pop-off valve.

A series of political and legal arguments ensued and by the end of the year both Honda and Penske had decided to depart the series, Penske immediately and Honda at the end of 2002. Toyota already had made its own decision to switch to the IRL for 2003 and so it was that the balance of power shifted in American open-wheel racing.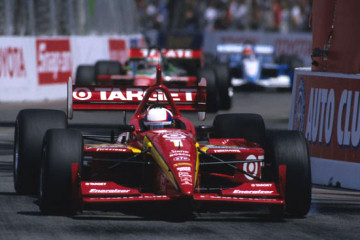 By this stage Toyota and Honda had serious financial stakes in many teams. At the end of 1999 after Chip Ganassi's team and Honda combined to win four straight CART championships Toyota enticed Ganassi away from Honda with a multi-million dollar offer.

"I warned (CART chairman) Andrew Craig that this was a dangerous situation that would result in a lot of money being spent and influence wielded," Honda's Robert Clarke said. "I told him I thought it would be bad for the sport, but he ignored my advice. He said he thought it would be great for his teams because they would all receive substantial bonuses from the engine manufacturers."

Those moves seriously escalated the financial and technical wars between Toyota and Honda who were the biggest financial players in CART through 2002 and are now performing the same heavyweight roles in the IRL. Instead of the sanctioning body dictating to the manufacturers, as happens in NASCAR, the engine builders are doing the directing and power-broking in the IRL as they were allowed to do in CART.

A series of management changes in recent years and what tuned out to be an ill-advised IPO in 1998 that turned the organization into a public company as well as the loss of Toyota and Honda and a good many of its top teams, led to last year's bankruptcy proceedings. CART's assets were purchased by OWRS (Open-Wheel Racing Series), a consortium of three team owners, Gerald Forsythe, Kevin Kalkhoven and Paul Gentilozzi. Forsythe, Kalkhoven and Gentilozzi have rebranded the series as the Champ Car World Series and the cars are referred to as Champ Cars, reflecting the ninety-year history of American national championship racing.

Champ Car's new owners are working hard to rebuild the series through 2004 and 2005, and hope to attract a new engine manufacturer or two to the series to compete against Ford/Cosworth in 2007 and beyond. Champ Car's greatest strength is its venues and a tremendous fan base. Champ Cars compete at great street races like Long Beach, Surfers Paradise in Australia, and Toronto, Montreal and Vancouver in Canada, as well as classic permanent road courses like Road America in Elkhart Lake, Wisconsin, and Laguna Seca, California, and Mexico City and Monterrey, Mexico.

Last year, even amid serious political and financial troubles, the Champ Car World Series drew almost 2.7 million people to it's total of seventeen races, averaging 158,000 per race. This was second only to NASCAR's average crowd of 176,000 and way ahead of the IRL's average of 63,500 which falls to around 45,000 without the Indy 500. Clearly, the fans have remained faithful to the diverse mix of racetracks, primarily street circuits and road courses, which comprise one of the world's most challenging and respected racing series.

For sure, Champ Car must develop a better organization than we've seen in the past with improved methods of operating, promoting and marketing. Danny Sullivan recounts his suggestions to Roger Penske for upgrading the level of CART's management when he was driving for Penske in the late 'eighties. "I said to Roger, why don't you get Peter Ueberroth?" Sullivan commented. "Give him a couple of years to get the thing established, pay him a big bonus and let him get it all set up. I said use John Martin with Ohlmeyer Communications to do the TV program with ABC. John was with Roone Arledge and he was a sharp guy and a buddy of Roger.

"All the potential was right there," Sullivan added, "but there was no way Roger or any of those guys were ever going to let a powerful guy in there because they would have told Roger and those guys what to do, and they didn't want to hear that. They were more interested in where their motorhomes were parked."

But clearly, the most important factor in making a succesful racing series is having the sanctioning body squarely in the driver's seat, writing and enforcing sensible, technically interesting rules and enjoying good relationships with the manufacturers competing in the series.

That aside, it's worth imagining if all the money spent in recent years by Tony George, CART and the engine manufacturers--Toyota and Honda in particular--had been spent in a collectively positive way to build the sport. Many people reckon this sum to be in excess of half a billion dollars! Imagine if a small portion of that money had been put behind an American driver development program. Imagine again if all that money had been used to build and promote the sport.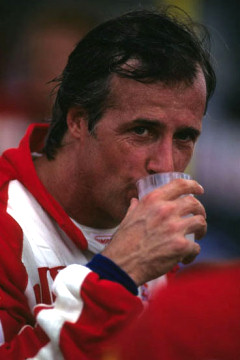 Sullivan now runs the Red Bull American F1 driver search program and he says that, NASCAR aside, the sanctioning bodies around the world have failed to rule the 'ladder system' with a strong hand. "One of the problems is there are too many series backed by different manufacturers," Sullivan says. "You no longer have a clear ladder like there used to be when it was Formula 2 and Formula 3 and Formula Ford. Now there are all these series competing for space and against each other and they just muddy the waters rather than making it clear who the best young guys are. And of course, they're adding to them rather than trying to focus on a clear route to the top.

"Now you've got the Formula BMW series expanding into North America and Toyota is introducing an 1,800 cc series in Australia and New Zeland which is virtually the same thing. Every manufacturer wants to get in but there's not room for all of them. The sanctioning bodies should be telling the manufacturers what they should and shouldn't be doing, but there's none of that. NASCAR is the only sanctioning body in the world that operates that way."

Although Sullivan lives in France these days he co-owns southern California's Irwindale Speedway. "If we run any kind of stock car program like the Southwest tour we bring the people in, but if we try to do any kind of open-wheel racing, midgets, sprint cars, forget it," Sullivan said. "We get the same number of people every year. If Tony Stewart comes it doesn't matter. We've tried that and we still get the same crowd, maybe a third of the seats are full. But we bring in any kind of stock cars and we fill the place."

Sullivan says that even the young drivers in his Red Bull program don't appreciate his own racing accomplishments. "Some of these kids ask me what I did in racing and I tell them I won the Indy 500 in 1985 and the CART championship in '88 and they say, 'Oh really, well that's not really a major thing is it?' So that's the level of recognition. It's a generational thing. It's been almost ten years now since Indy car racing has enjoyed any kind of serious credibility. Now it's gone and I don't know how they're ever going to get it back."

One of Sullivan's partners at Irwindale is Jim Williams a major food supplier to McDonald's who used to be an associate sponsor of the Penske team. "A few years ago Tony admitted to Jim Williams and me that he wasn't sure if the crowds would ever come back," Sullivan remarked.

Long Beach founder and former CART CEO Chris Pook believes the Long Beach GP holds the keys to Champ Car's future. "The lynchpin I think will be the Long Beach Grand Prix," Pook says. "Will this race remain a Champ Car race, or will the IRL show their true colors and their true intentions? They've already showed them in court because, as everyone knows, they were prepared to buy this race."

Pook has no doubts that a switch to the IRL would be very damaging to the crowd. "You've got to look at it from the position of what's good for this venue, and I'm hopeful that the Champ Cars will stay. It will be an interesting decision that has to be made here in town among the business community and political leaders. A change of cars will require a modification to the contract with the city so it will become a political issue, and we'll see how it works out. It is committed for next year as a Champ Car race, but they've got to start talking very quickly about 2006 and beyond."

Pook is an ardent believer that the Long Beach fans are as committed to Champ Car racing as they are to the great California street race itself. "While this is a street race and it's a party, and there are all kinds of other things going on around the race, nobody should underestimate the viewing fan. That's a very important point," Pook observed.

"Heaven forbid that the IRL should come in here, but if they do, and if their laptimes are off from the Champ Cars in the big way, it will be real trouble. Champ Cars are very nimble racing cars. They brake, accelerate and turn in very impressive ways, and our fans here at Long Beach appreciate those things.

"Look at this year in the weeks before the race when the public responded to the news that there was a field and a good, strong field. They understood what was happening and they responded by buying tickets and turning what looked like a pretty bad situation into a success. You just have to walk around and talk to the fans. They don't want anything else racing here. They want the Champ Cars."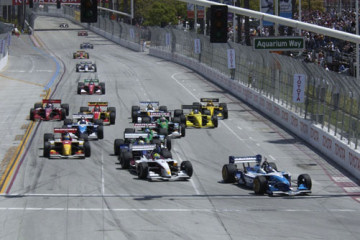 Adds Paul Newman: "The fans are the greatest strength that Champ Car has. The fans are unbelievably passionate and committed. I talked to a lot of them at Long Beach this year and their enthusiasm gave me a lot of heart. They really believe in the series, and from what they said to me they wouldn't support it if Long Beach were to switch to the IRL."

Meanwhile Champ Car's new owners are working hard to rebuild the series through 2004 and 2005. With luck, a new engine manufacturer or two might be attracted to the series to compete against Ford/Cosworth in 2007 and beyond.

What will happen at the end of 2006 when Toyota is likely to depart the IRL for a full-time commitment to NASCAR? Will Honda pull-out of the IRL and join Toyota in NASCAR, or quit American racing to focus on Formula 1 and motorcycle racing? The betting inside the industry is that Honda will move to NASCAR.

To put some perspective on the dilemma we face today consider that in 1967 there were 87 entries for the Indy 500 including naturally-aspirated Offies, supercharged Offies, turbo Offies, stock-block Fords, turbo Fords, and a Granatelli turbine. It was the height of the technical revolution at Indianapolis and the height of the race's history. In fact, twelve active F1 drivers were entered that year and six of them failed to qualify! And in 1995, the last year CART's teams and drivers raced at Indianapolis there were no fewer than 104 entries of which 96 driver/car combinations made practice runs and 71 made qualifying runs. Compare that to this year's sad entry at Indianapolis, the smallest field since 1947.

Back in the sixties American sports car and road racing was huge. The original, unlimited CanAm series was in rude health featuring the factory McLarens and Chaparrals and numerous privateer McLarens and Lolas. There was also a booming SCCA TransAm series with factory teams from Ford, Chevrolet, Plymouth and AMC. The TransAm was where most of the factory money was spent for a few fleeting years until the SCCA mismanaged the series to death's door. At the time NASCAR was still a regional southeastern series. But the SCCA was unable to properly manage both the CanAm and TransAm series failing in both cases to manage the technical rules as well as their relationships with the manufacturers.

In 1968 there were also healthy SCCA Formula A and Formula B series, running concurrently with thirty cars in both categories. And of course, Bridgehampton on Long Island a few hours drive east of New York City, and Riverside, in southern California, were booming, bringing road racing to America's two largest metropolitan markets.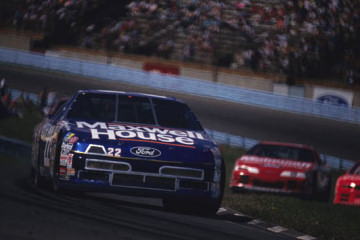 NASCAR rules today, even in road racing, pulling huge crowds to
Watkins Glen And too, USAC sprint car racing was at its height with very healthy local forms of sprint and midget racing on east and west coasts as well as across the midwest. USAC Championship dirt cars were also drawing big crowds to state fair parks in the midwest and California.

Nor should we forget that Mario Andretti qualified on the pole for his F1 debut in the 1968 United States GP at Watkins Glen. Also in the field were Dan Gurney, who had won the previous year's Belgian GP in his own All-American Racers Eagle-Weslake V12, and Bobby Unser who made his only F1 start that day. Gurney and A.J. Foyt also combined to win the 1967 Le Mans 24 hours for Ford in a time when American drivers, cars and teams held pre-eminent positions in international motor racing.

Obviously, many forms of racing other than NASCAR were very healthy in those days and many fans believed the optimistic mantra that racing was, 'The Sport of the Seventies'. Instead, mismanagement and debilitation set in. Sad to say, the former CART team owners who have deserted the series for the IRL in recent years failed to provide the leadership when they had the opportunity during their CART years. They failed to develop a business plan and a technical philosophy and they failed to manage the rules correctly and build and develop good relationships with the manufacturers.

NASCAR and Ferrari aside, the history of automobile racing and manufacturers is that they come and go. The manufacturers come in and inflate the technical and financial stakes. Then they leave, deflating the entire playing field. The same essential failures killed the CanAm, F5000, the original TransAm, IMSA and CART, and it's very clear that if either IRL or Champ Car are to achieve longterm success they will have to be effective in these key areas where so many others failed.