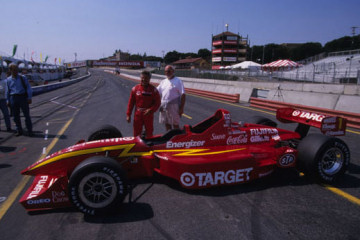 Sadly, automobile racing remains a marginal sport in this country. It is misunderstood by the country's stick-and-ball-worshipping sports media, many of whom don't consider racing to be an athletic endeavor, and by the general population as a whole. NASCAR has made some recent inroads into America's pop culture, but road racing and open-wheel racing lag far behind. The situation has been made worse by a long political war and the subsequent CART-IRL split.

Absent a reunion with the Indy 500 and lacking strong, directed leadership from CART, open-wheel racing has lost position in the fiercely competitive domestic American sports market. Everyone's been wringing their hands about what to do, hoping for some oracular being to invent a magical marketing program that will turn things around, but there's only so much that scores of marketing mavens and gales of slick presentations can do.

Amid all this head-scratching, triple champion team owner Chip Ganassi has come up with CART's best marketing tool in years. Ganassi has quietly built a two-seat Reynard-Honda Champ car and while Ron Dennis has been reluctant to run any press people in his much-heralded F1 McLaren two-seater, Chip is delighted to have members of the fourth estate ride in his car.

Ganassi's team built the two-seat Reynard 98I without any hurrahs, debuting the machine to everyone's surprise in August at his own sparkling new Chicago Motor Speedway. Chip plans to continue operating the car in a similar low-key manner in partnership with Honda, running it at a handful of tracks for local VIPs and selected press and media people.

The master stroke was asking Mario Andretti to drive the car. Mario, 59, hasn't raced in five years, but he's the perfect man for the job, totally capable and infinitely experienced. Despite his retirement, Andretti is still America's most famous racing driver. He attends most CART races as a spokesman for Texaco, and the additional job of driving Ganassi's two-seater has put a new bounce in his step. And of course, a ride at speed in a real race car with Mario Andretti is a memory anyone will treasure for the rest of their life.

The day after September's CART race at Laguna Seca, I was able to cajole my way into riding in Chip's car. The spectacular California road circuit seemed a perfect place to, in Mario's words, "experience the sensations we go through". Having done it, I can assure anyone who doubts that physical strength and athletic agility aren't required in racing will quickly have their mind changed by a few laps with Andretti in Ganassi's Reynard.

I had a similar experience at Laguna Seca many years ago aboard a Shadow CanAm car driven by Jackie Oliver and powered by an aluminum 494 cubic inch Chevy V8. There was neither passenger seat nor belts in the Shadow however. I sat on the aluminum floor and hung on to the roll bar behind me with one hand and the dash panel with my other hand.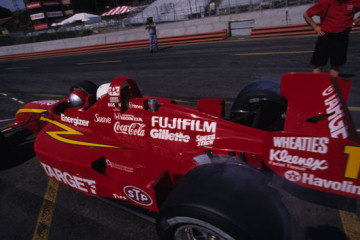 The first time Oliver took me up to the Corkscrew I was convinced I was about to fly out of the cockpit, off to Salinas and into the afterlife. I hung on grimly, scrunching myself back down against the floorpan as best I could, enjoying the thrill but not taking in many of the subtleties.

This time was much different. Climbing into the cockpit behind Mario and sliding down into the seat was just like getting into any single-seat race car. My feet and legs slipped snugly alongside Mario's hips and the seating position fit my just shy of 210 lbs girth like the proverbial glove. I was amazed!

After Chip's guys belted me in they fitted a stationary steering wheel to the shaft in front of me and I was ready to go, hands on the wheel. "Ready?" Mario asked over the radio. "Yep. Let's go," I answered. And away we went.

Mario lit up the tires as we left the pits. He kept it going up through the gears, accelerating hard up the hill and out onto the track. Right away, I realized there wasn't going to be any messing about. He'd been running the car with passengers aboard all morning, and had just completed a couple of fresh runs on new tires. Everything was up to temperature and Mario was into his rhythm.

Over the brow beyond the pits the car got light for a second or two before we dove down into turn one, the g-loadings already rolling at us. I hunkered down in the cockpit, bracing myself for the ride. For indeed, it's the acceleration and cornering loads that are impressive. Sure, the thing stops on a dime, or less, but I was ready for that.

In fact, I was a little surprised with the braking, believing initially that Mario was getting on the brakes a trifle early. But I quickly realized what he was doing as he got on the throttle early and drove the car to the apex, feeding on the power progressively, gathering speed and loading all the time.

There was a little understeer on initial turn-in, but as the power began to come in, the chassis and tires hooked-up. The level of grip was genuinely awesome and the power delivery and Mario's gear changes were remarkably smooth so that I was able to enjoy the flow of it, totally confident in my driver.

Going over the rise on the ascent to the Corkscrew is the most exciting segment of a lap at Laguna. It's also the fastest part, getting up to 160 mph. The car got light over the brow and my stomach rolled a little as I tried to settle myself for the dive down through the Corkscrew. I was just sitting there, enjoying the ride, but I imagined how easy it would be to clip the curb as it popped up suddenly on the right.

Two days earlier, Gonzalo Rodgriguez had done exactly that, knocking his foot off the brake pedal and snagging the throttle as he trod back on brake. In an instant he was off the road, into the barrier and flying through the air, the first man to die at a professional race at Laguna Seca since the track opened in 1957.

I focused entirely on Mario's dive to the left, down through the Corkscrew. The rapid changes of speed and direction slapped at us, pushing hard one way, then the other, right front wheel off the ground for a few moments. The descent from the Corkscrew to the last turn is fast and furious through a series of heavily-loaded rights and lefts.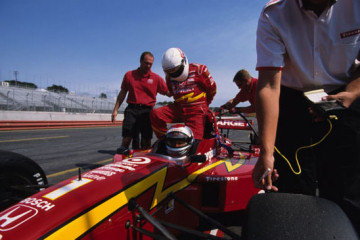 Coming out of the last turn to begin our timed lap Mario ran the right front wheel into the dirt--just a little. Around we went again, and then a third time, before coming into the pits. My quick lap took 1 min 15.51 secs, a 106.70 mph average. That was seven seconds off the pole but almost on fulltanks (which I most assuredly represent) race pace, as well as being the fastest lap Mario gave anyone that day.

Three laps were fun, although I imagine that after five laps my neck would begin to struggle to keep my head upright and my stomach would be feeling queasy and out of synch with each new turn. Ten laps I could see as an endurance test, but beyond that I'd be wailing over the radio to let me out of this thing. And of course, I wasn't driving, pushing hard against the wheel, having to make the right, rapid decisions and movements. My hands, forearms and neck weren't doing any work to speak of.

Those few laps filled me with pleasure and awe. They increased to new heights my respect for the young men who race Champ cars. I now know how impossible it would be for me to even contemplate the task of driving an 83-lap race at Laguna Seca or any other track.

For anyone unfamiliar with racing, three laps with Mario must be a massive mind-blower, and I certainly hope that Chip, Honda and CART use

The two-seater in the best possible way. Every big-time, stick-and-ball media person who rides with Andretti in Ganassi's car suddenly will understand and deeply respect, "the sensations we go through", and the better off the sport will be.


*Mario Andretti on driving the Two-Seater

Ganassi's two-seater is four inches longer in wheelbase than a normal Reynard. The added wheelbase adds some weight to the car no to mention the burly passenger sitting in the back seat.

"Obviously it's not as agile as a normal car, but having said that the long wheelbase makes it a very stable car," Andretti said. "I would characterize it as a proper CART Champ car with fifty-five gallons of fuel. That's the best way I could describe it. You have not only the added weight of the passenger but also the added weight of the extra cockpit and so forth. So the car is quite a bit overweight, and it feels it. I can feel it in braking and accelerating.

"Believe it or not twenty pounds makes a difference. I'll have to adjust my braking points and so forth, but it doesn't do weird things if I have a person who weighs 210 lbs versus a person that's 175 lbs, but it's a very nicely balanced car with as safe a feeling ride as I can imagine. The car is fun for me to drive because of that. I don't feel like I'm taking any chances with anyone because its an enormous responsibility, but given all that and the tyre situation, I drive it pretty damn hard.

"I adapted to the car immediately. I didn't have the luxury of a lot of running in the car, but right away I was in the swing of things. The first time I drove it on a strange oval, Chicago, the track was slippery and I was one of the first cars out there, but I felt right away this is very do-able. That speaks volumes for the balance of the car, for the preparation and the set-up they gave me.

"There's a sense of responsibility I keep that in mind all the time, especially in braking. I always give myself plenty of time so I'm not going to get into a panic situation. I know I can give a good, honest ride without delving into that territory. I feel very confident that every ride is as safe as humanly possible. I want people to come away with a very good experience.

"It's well done and well executed. I have to congratulate the Ganassi organization. They provide a good group of guys to run the car, very safety-minded."