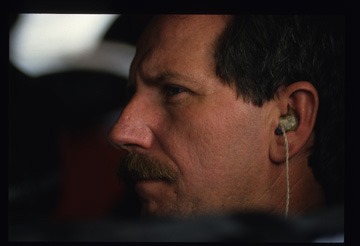 First of all he was 'Ironhead', before evolving into 'The Intimidator', the quintessential southern stock car driver of the last twenty years. Dale Earnhardt was the man so many others wanted to be. He was tough, fast, supremely confident and a brilliant racer.

Earnhardt was the acknowledged master of drafting on the superspeedways. He seemed to understand how to use the air better than any other driver and his results at Daytona and Talladega proved it. At Talladega, Earnhardt won no fewer than ten 500-miles races, and despite winning the Daytona 500 just once, in 1998, he won 33 other races at Daytona over the years, including a string of ten consecutive 125-mile qualifying race wins between 1990-'99.

He was also a grand master of 'laying a fender' on another car. Unlike most forms of motor racing, stock car racing is a contact sport. Using your car's fenders to best effect is one of the arts of the game, and nobody could do it better than 'The Intimidator'. Over the years Earnhardt crashed many people, always with a deft touch. He played the odds and won many times. He raised the ire of plenty of drivers and even more fans, emerging--until Jeff Gordon came along--as the man people loved to hate.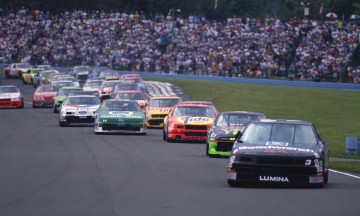 Earnhardt played the game to the maximum on and off the track. He got the most out of the black and silver colours of team owner Richard Childress's primary sponsor GM Goodwrench, becoming just as much 'The Man in Black', as 'The Intimidator'. The sobriquets were interchangeable. He was the menacing, dark force, the guy who was going to push to the maximum at every turn, in every situation. It was an image Earnhardt cultivated superbly, and of course he could back it up implacably on the racetrack.

In the end, it appeared that he played a defensive game rather than his natural preference for offense. When it became apparent he couldn't win the Daytona 500 from third place, it certainly seemed that Earnhardt laid back to protect his son and his team's new driver Michael Waltrip, to give them the guarantee of a duel to the flag and keep Sterling Marlin, Rusty Wallace and Kenny Schrader from messing up the party for his team.

As Waltrip and Dale Jr pulled away, Earnhardt found himself struggling in the race's final turn to keep Wallace, Marlin and Schrader from swamping him on the run to the flag. They were all jammed together in typical restrictor plate style, and suddenly his luck ran out.

Throughout his career Earnhardt's bad luck in the Daytona 500 was legendary. He twice lost the race on the last lap in recent years, once because of a tyre failure, the other because of a crash. Earnhardt also hated restrictor plate racing and was its most vocal opponent amid a sea of disdain among the drivers for the dreaded method of restricting power.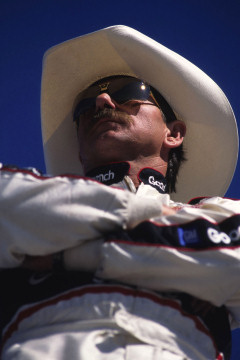 For years they've said that one day there will be an almighty, multi-car accident because of the crowding caused by running with severely restricted power and terrible throttle response. In the end, Earnhardt was the first man to die as a result of such an accident.

Earnhardt was the son of Ralph Earnhardt, a renowned short track driver from North Carolina who won a NASCAR Late Model Sportsman championship in the late 1950s. He started racing on Carolina short tracks like his father and made his Winston Cup debut in 1975 when he was twenty-four years old. Earnhardt ran a handful of races over the next four years and his big break came in 1979 when Rodney Osterlund hired him to run the full NASCAR schedule for the first time. He scored his first win that year at Bristol, Tennessee, finished seventh in the championship and was NASCAR's rookie of the year.

Earnhardt continued with Osterlund in 1980 and '81, winning five races in 1980 and taking the first of his seven championships. After Osterlund's team folded in the middle of 1981 he joined Richard Childress's team for the second half of the year, then drove for veteran NASCAR team owner Bud Moore in 1982 and '83. He rejoined Childress for 1984 and the pair remained together for the next seventeen years, creating the most successful combination in modern NASCAR history.

The Earnhardt-Childress pairing won the NASCAR championship in 1986, '87, '90, '91, '93 and '94. The last title was Earnhardt's seventh, equaling the record number of championships won by Richard Petty and placing him at the pinnacle of the stock car racing's pantheon. The last few years were a little less successful, although he was second to Jeff Gordon in the 1995 championship and finished second again in last season's championship to Bobby Labonte. He also won six races over the last three years.

Earnhardt won 76 Winston Cup races from 676 starts over twenty-six seasons and is ranked sixth on NASCAR's all-time winners list behind Richard Petty, David Pearson, Bobby Allison, Darrell Waltrip and Cale Yarborough. It's a sobering thought that all five of those other legends of stock car racing survived their driving careers and are alive and happy today.

While Earnhardt is gone, his name and spirit will remain. His son Dale Jr has proven himself a superstar in his own right in the past few years and is a top contender to win this year's championship driving for Dale Earnhardt Incorporated, a three-car Chevrolet team with Earnhardt Jr, Daytona winner Waltrip and Steve Park driving. Earnhardt's wife Teresa, who was at his side when he was pronounced dead, has run the business end of the team in partnership with her late husband and there is little doubt that she will continue in this role. The memory and legacy of Dale Earnhardt will cast a very long shadow.