Their careers were as parallel as any pair of drivers in the history of racing. Al Unser Jr and Michael Andretti, respective sons of Al Sr and Mario, were born six months apart in 1962 and rose through the ranks one year apart, Al ahead of Michael, until they arrived in CART in 1982 and '83 respectively. Through the eighties they became the great young superstars of Indy car racing, rivalling Rick Mears, Emerson Fittipaldi, Bobby Rahal, Danny Sullivan as well as their evergreen fathers, and maturing in the nineties into champions. Ultimately, they retired just over a year apart in 2003 and 2004 not long after their fortieth birthdays.

Andretti retired after last year's Indy 500 still at the top of his form, typically leading his final race when his engine suffered a mechanical failure. Unser finally hung up his driving gloves this past July after a sad, almost tragic decline amid family problems, divorce and a bout with alcohol. Still, both the statistics and the memories of their many stirring drives over two decades demonstrate that Al Jr and Michael were the greatest drivers of their generation.

Michael won the CART title in 1991 and was runner-up five times in 1986, '87, '90 (to Al Jr), '92 and '96. Andretti never won the Indy 500 although he led many more laps at the Speedway then many multiple winners and scored forty-two CART victories so that he's ranked third on the all-time Indy/Champ car winners list behind no less a pair than A.J. Foyt (67 wins) and his father Mario (52). Al Jr won two Indy 500s in 1992 and '94 and two CART championships in 1990 and 1994 when both the 500 itself and the CART series were at their apogee. Al Jr is ranked sixth on the all-time winners list behind his father Al and uncle Bobby and ahead of seventh-placed Rick Mears.

Another broader aspect to Unser's career is that he was a two-time IROC champion in 1986 and '88, beating Dale Earnhardt at Daytona when that series enjoyed serious stature. He also won the Daytona 24 hours in 1986 with Al Holbert and Derek Bell aboard a Holbert Porsche 962. Michael also ran the Daytona 24 hours a couple of times as well as Le Mans, driving Porsches with his father and cousin John or brother Jeff, but he was never able to win either long-distance classic.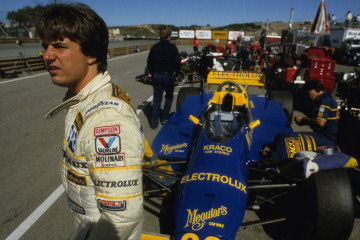 Al Jr and Michael were friendly rivals as kids, getting to know each other as the similarly-aged sons of two famous fathers who were also rivals, teammates and friends. The kids raced karts and snowmobiles against each other, trading visits to the Andrettis' northeastern Pennsylvania and the Unsers' northern

New Mexico hideaways. Both of them arrived quickly in the big leagues, Al coming up through sprint cars, Formula Super Vee and CanAm, while Michael raced with equaly clamorous success in SCCA FF1600, Super Vee and Formula Atlantic.

"Racing brought our families close together," Mario acknowledges. "I shared with Big Al his joy when Little Al was winning and I'm sure it was the other way around too. I knew what he was going through and what he was feeling. To me, it was like family. These kids played together when they were six or seven years old, then ten or twelve years later they were in the arena together fighting to win big races and championships and respecting each other. I don't think there was ever greater respect between two men like there was between Al and Michael."

Indeed, Michael roundly confirms his father's opinion. "I have a ton of respect for Al, not just as a race car driver but as a person," Michael says. "I really like Al. I've always liked him. I always loved driving against him. We had some great times together on the racetrack and he was always a good, fair racer. I have nothing but good things to say about him. Our careers were parallel in a lot of ways. I remember watching what he was doing in his first year of Super Vee when I was running Formula Ford at the time and saying, that's what I've got to be doing next year."

Comments Al Jr: "Michael was my direct contemporary. He had, and understood, all the same pressures that I lived through from being the son of a famous driver and being compared to your father and people expecting us to go out and be successful and win races. That is an extreme amount of pressure that is bestowed upon you at birth if you choose to follow in the footsteps of your father."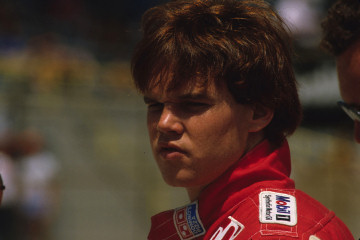 Al recalls Michael crashing heavily at Mid-Ohio in 1998 after a collision with P.J. Jones's cripppled car, then qualifying on pole at Elkhart Lake the next weekend. "I respected Michael very much on the racetrack," Unser remarks. "One of the things I liked about Michael so much was when he flipped down the backstretch at Mid-Ohio. He went end-over-end and walked away from it. He got out and sorta shook it off, then put it on the pole at the next race at Elkhart Lake. To go out there and do that showed that Mikey truly had to love the business and love what he was doing."

Michael repays the compliment. "I never felt a rivalry with Al," he comments. "I always felt it was about respect. I felt that if I could beat Al on this day I had done a good job. That's the way I always looked at it because I had a lot of respect for him. I like the way he drove. He was a guy that always had me worried. It didn't matter if he started last. If he started first he really had me worried! Every race you knew he was going to be there. A lot of people were always counting him out but I'd say, don't you dare count him out because he's going to be there. And in ten laps he'd be in your mirror. He had an uncanny way of setting his car up for the race. He wasn't a real good qualifier but he always had it right for the race."

Michael scored his first CART victory at Long Beach in 1986 after a tremendous duel to the checkered flag with Al Jr. "He made me work really hard for my first win at Long Beach and that made winning that race that much more special," Michael remarks. "Winning that way against Al who ended up being the King of Long Beach, that was cool. It couldn't have been any better."

From the start Michael was renowned for his aggressive style, ready to go for the tiniest opening. "That's just the way I was," Michael grins. "I definitely had no tact then. I just went for it. All I wanted to do was win, do whatever it took to win. I drove as hard as I could, sometimes too hard. Sometimes I took too many chances but those are things that you can't teach somebody. I think the real good guys out there are the ones you've got to calm down and slow down, and at that time, I think I was one of them."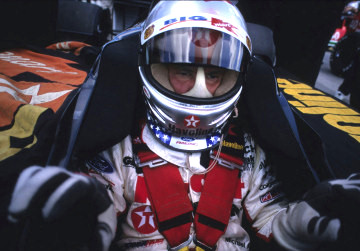 Adds Mario: "I'll never forget the first competitive pass he did on me at the Meadowlands. He was stalking me big-time and finally he gave me a nice little nudge with the wheel. He came inside me and off he went!"

Michael drove for the Kraco team for five years, through 1988, and was the man to beat in 1986 and '87, fighting unsuccessfully for the championship both years with Bobby Rahal. Five years later in Rahal's debut year as a team owner he again beat Michael to the CART title. Rahal was also Al Jr's teammate in the Galles/Kraco team from 1989-'91 so he's very familiar with both of them.

"When Al and I drove together we spent a lot of time together," Rahal says. "He was the only race driver I ever felt the interest where I wanted to go out and have dinner with him. I thought he was an interesting guy--in some ways very simple, in some ways very complicated. He was a good friend. We had a good team. We had a good partnership together, no question about it."

Rahal shares the view of many others that Michael wasn't very out-going. In fact, many people will tell you that he was one of the least-warm people in the paddock. "I think they were very different," Rahal observes. "Michael was much happier to stay behind closed doors than Al. Michael and I never really socialized together. I respect Michael, but he and I were very different people. I respect him for his race wins whereas Al was much more gregarious, much more like me, I think, in a lot of ways.

"One thing I always liked about Al," Rahal adds, "was that he enjoyed winning and he enjoyed racing. Everybody enjoys winning but with some like Al their smile seems to be more genuine, or the moment seems to be more enjoyable, or more appreciated by them, than others."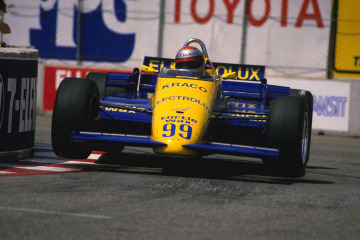 Mario says Michael's relatively poor socialibility during most of his driving career came from his deep drive to succeed. "I think Michael was so incredibly focused that he couldn't enjoy anything else," Mario says. "He would not go out to dinner the night before practice or the race. If he had a sponsor commitment he wanted to be out of there quite early. When everybody was beginning their meal he would be leaving. He could not change his focus on a race weekend and I think over time that burned him out."

Michael says growing up in his father's shadow put particular pressure on him. He admits he was driven by the fear of failure. "The way Dad and myself motivated each other was two entirely different ways," Michael observes. "Dad was motivated for the win and the accolades. He loved it. He had the passion. But I was more motivated by the fear of losing. I think that had a lot to do with the way I was brought up. The focus from day one was on me to not fail. People wanted me to fail, or just watched to see if I was going to fail. I think that's what motivated me. I didn't want to fail. I was scared to death of failing. I think that was my drive throughout my career.

"It was a shame because, in a way, I probably didn't enjoy the wins as much as my father did. My mental state was driving me. It wasn't that I didn't enjoy racing, because I loved it. I loved all of it and I loved driving. I had the passion for it, but more of what was motivating me had to do with the way I was brought up."

In his prime from the mid-eighties through the mid-nineties Al Jr also stretched his legs to win in IROC stock cars and IMSA GTP cars as well as winning in the family tradition at Pike's Peak. Rahal believes these successes give Unser's career an extra edge but Al Jr has always said that Indianapolis meant everything to him. It was something he repeated tearfullly in victory lane in 1992 and reiterates today.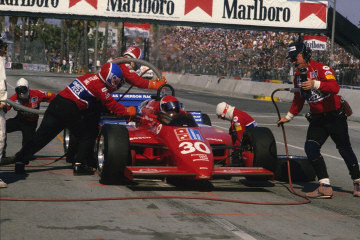 "My biggest satisfaction is the success at Indianapolis," Unser says. "The highlights of my career are what I've done there although I do take great satisfaction in being able to run many different types of cars. As I was growing up the one thing I looked for out of myself as a race car driver was to be able to drive any type of race car that they made and be successful at it. As I said throughout my career, if they raced front-end loaders I'd want to tackle them too!

"My highlight is the Indy 500 but I do take great satisfaction from saying that I competed against Steve Kinser in the World of Outlaws and had success on the dirt and went to Pike's Peak and held up the family honor at Pike's Peak. I take great satisfaction in being an all-around driver. I guess that has largely to do with the fact that my idol outside of my father is Mario. My father is my number one idol but Mario is my other idol and he won in just about everything he did--the Indy 500, Daytona 500, the Daytona 24 hours and Sebring, and of course, the world championship. Mario also won on the dirt and he was somebody I strived to emulate."

Al Jr also enjoyed a particular rivalry with Dale Earnhardt in the IROC series. Earnhardt was intrigued and amazed that this child-like Indy car driver could step into a stock car and beat him. One time at Daytona's IROC race Al Jr had Earnhardt beaten on the last lap but the Intimidator hit him hard from behind in turn three, launching Al out of the ballpark! Fortunately, he was unhurt. "I loved racing against Dale Sr," Al grins. "Dale Sr took me under his wing in my first year in the IROC and we just seemed to hit it off straight away. The one thing about Dale was you were his best friend as long as you were behind him. If you weren't behind him you were fair game."

A very clear career highlight for Michael was when he finally won the CART championship in 1991 while teamed with his father at Newman/Haas. After winning the previous days Marlboro Challenge million dollar sprint race he wrapped up that year's title with a dominant victory from the pole at Laguna Seca with Mario finishing third. "I think that weekend was my biggest weekend in racing. I qualified on the pole, won the Marlboro Challenge, led every lap of the race, won the race, set the record for number of wins in a season, won the championship and Dad was on the podium with me. How can you do any better than that?"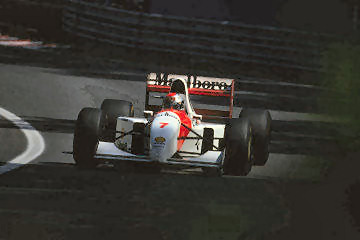 The four years from 1989-'92 with his father at Newman/Haas, in which they were on the podium together no fewer than fifteen times, were very fulfilling. "It was the best part of my career," Michael remarks. "Those four years at Newman/Haas together with dad, everything just came together so nicely. To be racing against your dad was one thing and then to be racing with him as a teammate--it was the first time that was ever done. With the results we had in those four years together it was just a great time."

If there's a stain on Michael's career it's his unsuccessful dalliance with McLaren in F1 in 1993. Michael chose to leave Newman/Haas to tackle Formula 1 as Ayrton Senna's teammate at McLaren with Ford engines. He was quick, qualifying close to Senna a few times and finishing third despite a spin in the Italian GP at Monza in what turned out to be his last race for the team and last in F1 too. Three days later it was announced that test driver Mika Hakkinen would replace Michael for the year's final three races.

McLaren had run Honda engines from 1987-'92, winning forty-seven Grand Prix races and five straight championships. But Honda pulled out at the end of '92 and with no longterm engine deal with a major manufacturer three-time world champion Senna was looking elsewhere for employment. Senna started the '93 season without a contract as he and McLaren boss Ron Dennis haggled over Senna's demands for a $16 million salary. Ayrton agreed to drive on a race-by-race basis, pending Dennis finding the money to pay him and signing an engine deal for '94.

Nor was Michael able to do much testing because the new McLaren wasn't ready until days before the start of the season. "They were supposed to have Renault motors but they lost that deal," Michael tells the story. "They had been designing the car for the Renault motor and in Novermber they found they weren't getting the Renault. So they had to go to Ford and they didn't have the new car with the Ford engine ready to test until a few days before the first race. So I got a day and a half of testing before the first race and that was just the start of it. It was just one thing after another."

Meanwhile Ron Dennis had hired Mika Hakkinen away from Lotus to be Senna's replacement in case the Brazilian bolted. "This is where the situation got sticky," Mario says. "Michael was begging to test and Ron Dennis was in a quandary because he didn't have anything for Mika to race so he gave him testing and all the testing time that Michael needed wasn't there.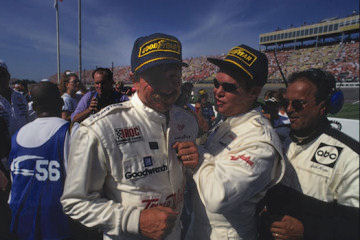 "This is where Michael became the fall guy. It was so unfair and people blamed him for not hanging around the team! The press did not understand the situation and Michael got killed in the press. The international press went on about him not committing, but that was total bs."

At the beginning of the year Senna won a pair of races in the rain, the Brazilian GP and the European GP run that year at Donington, where power was less a factor. Senna then scored a convincing win at Monaco and with Dennis getting close to an engine deal with Peugeot the great Brazilian finally signed a contract for the '93 season.

"Now they had Senna and me and Hakkinen and they had Hakkinen doing all the testing," Michael says. "Mika was never once quicker than me at a test and that is documented. It was frustrating because so many times we lost the speed at the race weekend. At Magny-Cours I qualified dismally and then we stayed the day after the race and tested and I was one-tenth off Senna. The time I did would have put me on the front row and Senna ran about the same speed he qualified at. So where did I all of a sudden find that speed? Was it magic? The car was easy to drive and I was quick. I was asking myself, why isn't it like this all the time?"

Dennis had three drivers on his hands with two of them--Senna and Michael--requiring very substantial salaries. The McLaren boss consequently told Michael he wasn't going to take up his option on him until the end of the year. Michael says it was clear to him after July's French GP that he was history with Dennis's team.

"He basically fired me after Magny Cours," Michael says. "He was ready to get me out of the car and every race I did after that I had to fight for. I came from last to sixth at Magny Cours. It was a pretty good race for me and he was like, 'What are you excited about?' Then he started telling me they were looking at putting Mika in the car. I said, 'What?' After that is when it got really bad."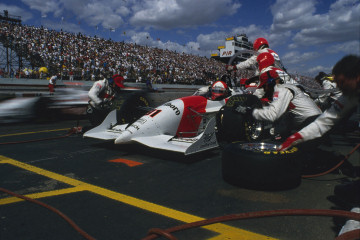 Comments Mario: "Michael had a decision to make. He wasn't going to have a sabbatical. So he made a decision to leave. At that point there were no other F1 rides available, so he made a deal to come back here with Ganassi."

Mario has no time for those who criticize Michael's approach to his failed year in F1. "When people say Michael did not focus on Formula 1 it really upsets me because I know how Michael was toward his job," Mario complains. "I don't know anyone who focused or dedicated himself as much as he did. I am furious when people tell me that he was not committed to Formula 1 because he didn't want to live there. He was all set to live in the south of France.

"And the other thing is, how many times did you see Senna or Schumacher hanging around the shop? Give me a break. I never did that my whole life. They said he was flying back and forth, but so was I. I won a world championship by burning the candle at both ends. As long as you know what your priorities are you can do it.

"Senna was one guy who had great respect for Michael," Mario adds. "He went to bat for Michael a couple of times, even to Ron. But Ron was brutal. He certainly was not respectful at all to Michael's career. If there's one disappointing part to his career it's that, and it will remain with him."

Meanwhile, after six years with Galles/Kraco, Al Jr joined Penske in 1994. Unser enjoyed a dominant first season with 'The Captain', winning eight races including the Indy 500 and taking his second CART championship. He won four races the following year and finished second in the championship to Jacques Villeneuve but then things began to spiral downward as Penske struggled with its car, Mercedes engine and Goodyear tires. The latter were just awful as Bridgestone/Firestone began to steamroller Goodyear out of the Indy/Champ car game.

Finally, after four years without a win and finishing 21st in the 1999 CART point standings, Unser was let go by Penske. He moved to the IRL for the last five years of his career and during this time he was struggling with plenty of personal demons. His marriage was on the rocks as he and his wife Shelley of eighteen years separated for good at the end of 1998. A few months later his eleven-year old daughter Cody was stricken with transverse myelitis which left her paralyzed from the chest down. A bright, energetic young woman, Cody has since become a fund-raiser for research into curing the disease.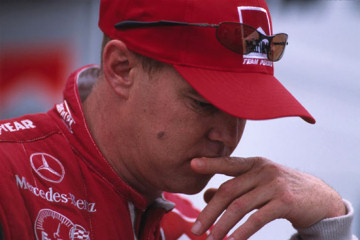 Al was also slipping more deeply into a battle with booze. He physically deteriorated badly in the late nineties suffering from an increasingly argumentative marriage and the effects of alcohol. For many years, from when he first arrived in Indy cars in 1983 to the early nineties when he won his first championship and two Indy 500s, Al Jr looked like the original fresh-faced rookie kid. Then he began to age, rapidly gaining weight and puffing out. From looking younger than he was he changed in a matter of years to looking older than his age.

Unser says the most difficult part of coming to grips with his alcoholism was that it happened in such a very public way as it often does with sports or entertainment superstars. "The toughest thing about my battle with alcoholism was the way it came down and how public it was," he admits. "Everyone just jumped on the bandwagon and had something to say about it. During that whole time I definitely learned who my friends were and who was after the fifteen minutes of fame. I learned some big lessons.

"It's still an everyday fight, an everyday battle," he adds. "You take it one day at a time. There are days that are tougher than others but most days right now are the best days of my life. It's definitely a disease that slowly takes over. I didn't realize I was an alcoholic until about two weeks into the program and I sobered up and realized that there is something wrong with me. But that was still not the toughest thing that I ever did in my life."

Al makes the point that the most difficult thing he's ever had to deal with was when he was told that his daughter Cody had transverse myelitis. "The biggest heartbreak I ever had was when I got the 'phone call that my little girl was paralyzed. That hurt more than missing the show in Indy in '95 as the defending champion, or not winning a race for so many years when you're driving for the best team in the world."

Despite Al Jr's end-of-career problems Mario Andretti still pays him the highest respect. "He was one of those rare talents who was a force to be reckoned with everywhere," Mario emphasizes. "In Foyt's heyday if you were going to win any race anywhere you had to deal with Foyt, and Al was the same way. He was one of those guys who was always a thorn in your side. If you were going to win a race he was always one of the guys you were going to have to deal with, and drivers like that you can count on one hand. Al was one of those that you had to deal with at every race. There was always a special appreciation for what he was capable of."

In the end, the parallel careers of Al Jr and Michael Andretti represented a rare episode in racing history, probably never to repeated, and made even stronger by the fact that through the first ten years of their Indy cars careers they raced wheel-to-wheel with their famous fathers. "I appreciated it," Al Sr chuckles. "I knew what Michael and Mario were going through. You can look at each other and kind of giggle because you know what the other one's thinking in a lot of ways. But that was something that was very rare. To be able to do that for each family and to have two families that competed like that is just unbelievable."

Adds Mario: "You could never, ever design or plan something like that happening with your own kids. It either happens or it doesn't, and it happened."

Concludes Al Jr: "I don't know if it will repeated again, especially with Michael and myself retiring before either one of our sons are old enough for us to race against in Indy cars. So for ourselves it's not going to be duplicated. But I felt and still do feel very fortunate that the stars aligned the way that they did in order for us, myself especially, to race aginst my dad. I didn't race against him for very long but I did get to race against him. Everything just hit at the right time."

And of course, Al Jr's 21-year old son Al is racing in the Infiniti-Pro series this year after a year in Toyota/Atlantic and the previous year in Barber/Dodge, while Michael's 18-year old son Marco has been turning heads with his speed and aggression in the Formula Dodge national championship. Will the cycle continue?