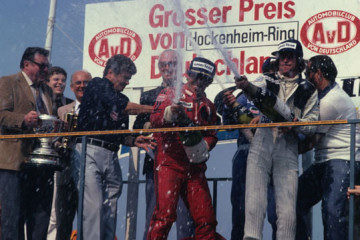 Twenty-five years ago this month Mario Andretti was on top of the world. Andretti scored his sixth win of the 1978 season in the Dutch GP at Zandvoort at the end of August and wrapped-up the World Championship in tragic circumstances at Monza two weeks later. Lotus teammate Ronnie Peterson was the only man who could have beaten Andretti to the title and when Peterson died following a controversial startline accident, Mario sadly absorbed his long-sought triumph.

A three-time USAC champion in 1965, '66 and '69, Andretti had also won the Daytona 500 NASCAR classic in 1967 and the Indy 500 in '69. As such, he was already a well-established household name in America and his ascendancy to the world championship propelled F1 to record heights of interest in the United States.

At the time we thought Mario's championship was the beginning of an upward trend for F1 in America but it turned out to be the high point followed by an inexorable decline in American participation in F1. In fact, Andretti's 1978 Dutch GP win was the last F1 victory by an American driver and twenty-five years later the likelihood of it ever happening again looks slim at best.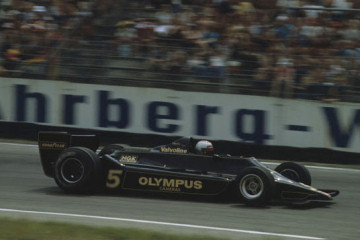 Since Mario's days American participation in F1 has plummeted. The only other Americans to race in F1 in the eighties were Danny Sullivan and Eddie Cheever. Sullivan had started his career in Europe, racing FF1600, F3, F2 and FAtlantic and running the 1983 F1 season for Tyrrell without much in the way of results before returning to the United States in 1984 to begin a successful career in CART.

Incredibly Cheever, who started 132 F1 races between 1980-'89, is the most experienced American F1 driver of all-time! Cheever grew up in Italy, of course, and raced karts, F3 and F2 in Europe before breaking into F1. He moved to the USA in 1990 to race first in CART, where he continued as a non-winner, then the IRL, where he was more successful.

In the last fifteen years only one American--Michael Andretti--has raced in F1. Michael drove for McLaren in 1993, but cut short his brief foray outside the United States before the end of the season. He made the podium for the first and only time in his last F1 race, finishing third in the Italian GP in September. Since that day ten years ago not one American has raced in F1.

It's sobering in fact, to cast one's mind back to the sixties and seventies when road racing was the King of American racing. Back then there were only a handful of successful big-time oval races and NASCAR was still in its infancy, although fast gathering strength through the indelible dictatorship of Bill France Sr and Jr. In those days we enjoyed a thriving United States Grand Prix at Watkins Glen and races like the Daytona 24 hours and Sebring 12 hours were major international events, attracting the top Formula One drivers and teams of the era.

Back then American drivers and teams raced regularly and successfully in Europe and around the world in F1 and sports car racing. With equal regularity the top Grand Prix drivers and teams flew to the United States to race big-bore CanAm sports racers. The LA Times Grand Prix CanAm race at Riverside for example, was a huge event, drawing drivers and teams from all over the world and a big crowd. During this time Hollywood enjoyed a brief love affair with motor racing with James Garner starring in 'Grand Prix', Steve MacQueen producing and starring in 'Le Mans', and Paul Newman and Joanne Woodward playing lead roles in 'Winning'.

In those days the New York Times and Sports Illustrated regularly covered big-time road racing. Famously, Roger Penske made the cover of Sports Illustrated in 1964 as USAC's road race champion, something that would never happen today. Indeed, as road racing boomed USAC in 1965 added a number of road races to its ovals-only Champ car schedule. USAC Champ cars raced at six road courses in 1968 and '69 but in 1971 USAC dropped the road circuits, as well its remaining four dirt track races, deciding to focus on paved ovals only. Twenty-five years later, in 1996, history would repeat itself with the creation of the IRL.

Through the seventies USAC floundered as the all-oval series was unable to generate sufficient fan, media or sponsor interest. Top teams like Penske, All-American Racers and Vel's Parnelli Jones ran only the major races and Mario Andretti shifted his focus from Champ cars to Formula 5000 and then F1.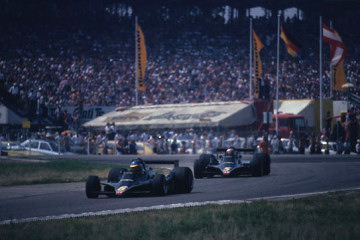 CART's creation in 1979 began to bring road racing back into the series. In fact, this was the primary factor in the rejuvenation of Champ car racing under CART in the eighties. As the SCCA's CanAm and Formula 5000 series failed, the drivers, teams and road courses moved into CART. Drivers like Bobby Rahal, Danny Sullivan, Teo Fabi and Geoff Brabham, teams like Newman/Haas, Truesports, and Team VDS, and tracks like Elkhart Lake, Mid-Ohio and Laguna Seca also switched to Champ cars. This historical shift fuelled the growth of CART through the eighties and into the nineties.

Then came the infamous CART/IRL split, laden with rhetoric about radically reducing costs and encouraging a resurgence of 'shade tree' engine builders and homebrewed American driving talent. All this proved to be piffle of course as the foreign domination of CART and then IRL continued unabated, escalating to new heights in fact.

Today, open-wheel racing in the United States is infinitely weaker than it was ten years ago while NASCAR has risen to unheard of new heights of popularity. At the same time, just three Americans--Jimmy Vasser, Ryan Hunter-Reay and Geoff Boss--are racing Champ cars this year and, Sam Hornish aside, foreign drivers have taken over the IRL as well.

What's happened? Has America's youth lost interest in the sport? Has the United States become too soft as a nation? The situation requires that we ask these questions.

The success of NASCAR and the accompanying sidebar suggests that provincialism rules, that compared to the halcyon days of the sixties and seventies the United States has become a much more inward-looking, self-absorbed country. But there's more than that to the conundrum.

A key element has been the abject failure of the SCCA at running professional motor racing. In the sixties the SCCA was America's pre-eminent sanctioning body with booming CanAm and TransAm series. In those days the TransAm was America's leading tin-top category with serious factory support and teams run by Penske, All-American Racers and Jim Hall's Chaparral operation as well as top NASCAR teams like Bud Moore. In comparison, NASCAR's Grand National championship was a regional, southeastern series, although fast-forward another decade and NASCAR was already on a roll to cornering most of the marbles in American racing while the TransAm had debilitated into a glorified form of club racing.

Through the same time the SCCA mismanaged to death the original, unlimited CanAm series, interment taking place before the end of the 1974 season. After a failed dalliance with Formula 5000 and the F5000-based 'new era' CanAm, the SCCA found itself by the mid-eighties essentially out of the professional racing business.

The SCCA's failure also did serious damage to Formula Ford and the lower rungs on the open-wheel ladder. Thirty years ago major FF1600 races used to attract huge fields, just like in England, and Dan Gurney judged the formula important enough for All-American Racers to design and build its own Eagle FF with which David Loring won the 1978 SCCA FF1600 title. Today, SCCA Formula Ford racing is unrecognisable and the slack has been taken up as best as possible by Skip Barber's regional and national Formula Dodge series.

In contrast NASCAR's broad sweep includes thirteen championships, including a regional Winston Racing Series at the grass roots level. While NASCAR has taken care of its knitting in all ways, America's other sanctioning bodies--SCCA, USAC and IMSA, and now CART and IRL--forgot where to find the wool.

Does this mean we may never see another driver capable of following in the footsteps of Mario Andretti? I hope I'm wrong, but I think not.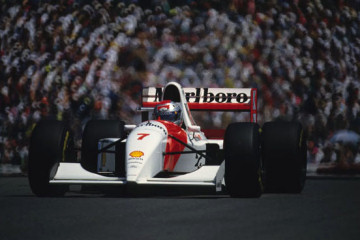 Sidebar/ Living in the Past
There was a time when American drivers and even teams figured large in the make-up of F1. Back in the fifties and sixties no fewer than twenty-eight Americans competed in F1 with Phil Hill winning the 1961 World Championship driving for Ferrari. Between 1960-'78 five American drivers combined to win twenty-two world championship Grands Prix.

Dan Gurney scored the only World Championship victory by an American driver aboard an American car at Spa in 1967, driving his own AAR Eagle-Weslake. Hill, Gurney and Richie Ginther combined to win eight Grand Prix races for America between 1960-'67 with Gurney adding three more non-championship F1 wins.

During the seventies, eleven Americans raced F1 and of course, Mario Andretti won the 1978 World Championship. Between 1971-'78 Mario won a dozen World Championship F1 races for Ferrari and Lotus and in 1973 Peter Revson also won two Grand Prix races driving for McLaren. But Revson was killed in South Africa in 1974 and Andretti reluctantly retired from F1 at the end of 1982, moving his focus back to Champ cars for the remaining twelve years of his remarkable career.

In the last twenty years only three Americans--Eddie Cheever, Danny Sullivan and Michael Andretti--have raced F1 cars and since Michael's last GP race at Monza in 1993 the F1 grid has been stars-and-stripes free.