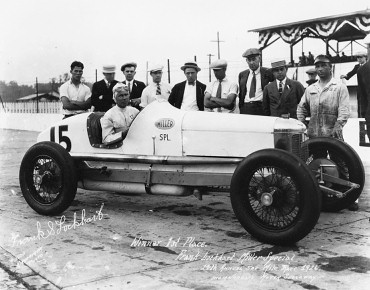 Eighty years ago this summer Frank Lockhart was America's most famous racing driver. Lockhart's flame burned intensely for a very short period, leaving a legend that has grown with the passage of time, but of all the great American drivers who followed it's difficult to argue that anyone achieved more in such a short space of time.

Lockhart captured the imagination of the American public in 1926 when he became the youngest winner of the Indy 500 in his first try at just 24. He went on to win nine more AAA Championship races over the next seventeen months, establishing himself as the most feared driver of the times. But on April 25, 1928, Lockhart crashed to his death while trying to set the land speed record on Daytona Beach aboard the remarkable twin supercharged V16 Stutz Black Hawk which Lockhart himself had designed and built.

Born in Cleveland, Ohio, Lockhart moved to southern California after his father died when he was just six years old. Raised by his mother, young Frank scraped together the money to start racing in the summer of 1923 when he was 20 years old aboard a modified Model T Ford. In 1924 he started to win regularly at local tracks including the newly-opened Ascot Park dirt track.

Lockhart had few social interests and by most accounts was a remote, hard man. As magnificent a driver as he was, Lockhart was an equally brilliant, self-educated engineer, and he spent his time tinkering with and tuning his cars. Racing was everything to Lockhart and his speed and burgeoning reputation soon attracted the attention of Harry Miller whose cars were battling for supremacy in AAA championship races with those built by the Duesenberg brothers. The great championds of the era like Tommy Milton, Jimmy Murphy and Pete dePaolo made their reputations aboard these cars.

In 1925 Harry Miller gave Lockhart a 3.0 liter Miller dirt racer with which Frank scorched the west coast's dirt tracks. As renowned as he rapidly became around California's dirt bowls Lockhart had no experience on big tracks, but it was obvious that the Indianapolis Motor Speedway beckoned. In the spring of 1926, Lockhart was hired by Harry Miller as a back-up, or relief driver, for Miller's multi-car team. He made the long railway trip east to the Brickyard with Miller's entourage and ran some impressive practice laps in a supercharged 1.5 liter Miller owned by established driver Bennett Hill, but wasn't scheduled to start the race.

Then before qualifying for the 500, independent Miller driver Pete Kreis fell ill with 'flu. From his hospital bed Kreis urged his team to put Lockhart in his car. The youngster set a lap record at 115.488 mph on his first of four qualifying laps but a tire failure stopped him on his second lap. A second qualifying attempt was aborted by engine failure and in the end Lockhart qualified twentieth with a slow but steady third run.

On raceday he quickly moved up the field, taking the lead before the race was interrupted by rain. After a restart Lockhart battled with Harry Hartz who had finished second in the 500 in 1922 and '23 and would subsequently win the 1926 AAA national championship. But during the 1926 Indianapolis race Hartz flubbed a pitstop, leaving his ignition turned off. It was Lockhart's opportunity to run away, and he was leading by two laps when the race was cut short after 400 miles by a second bout of rain. For a quarter century, until Troy Ruttman won the 500 at 22 in 1952, Lockhart was the youngest man to win at Indianapolis.

Lockhart's cinderella Indy 500 victory launched his career on a national basis and he took hold of the opportunity with every ounce of his bodily fiber. With his winnings, he bought his own cars and started modifying them in ways that upset Harry Miller, but Lockhart pushed on, making his own improvements to engines and superchargers.

In those days most Championship car races took place on high-banked "board tracks" constructed from pine wood. In fact, between 1921-'27 every AAA Championship race save the Indy 500 took place on a board track. Nineteen of these ovals ranging between 1.0 and 2.0 miles in length were built between 1915 and 1926, but because of the high cost of maintaining the pine boards, these tracks enjoyed very short lives. Most survived only three or four years. The longest-lasting board track was the 1.25 mile Altoona, Pennsylvania oval, which was built in 1923 and went out of business in 1931, the last board track to close.

As fleeting a period as it was, there's no doubt the board track era of the 'twenties was the golden age of AAA championship racing with titanic struggles between teams from Miller and Duesenberg on tracks in places like Beverly Hills, Los Angeles, Charlotte, Miami, and Atlantic City. The board tracks drew massive crowds as Lockhart and his peers lapped them at 130-140 mph, staggering velocities for the times. Indeed, in May of 1927 on the 1.5-mile Atlantic City board track, Lockhart set a qualifying record of 147.729 mph with his supercharged 1.5 liter Miller. Thirty-three years would pass before any driver lapped another American superspeedway at a faster speed!

By this time Harry Miller was successfully developing a front-wheel drive version of the famous straight eight-engined Miller Championship car. The front wheel drive layout enabled the driver to sit lower in the car, and Earl Cooper, Dave Lewis, Leon Duray and Pete DePaolo won a dozen races between them aboard front drive Millers between 1926-28. Lockhart stuck with the earlier rear-drive cars however, developing them in ways that created a rift between he and Miller. Among other things Lockhart devised an air-cooled supercharger which gave more power than the conventional Miller system.

At Indianapolis in 1927 Lockhart qualifed on the pole at a record-setting 120.100 mph, the first man to break the 120 mph mark at the giant, 2.5-mile superspeedway. In so doing he beat the factory-approved Millers of DePaolo, Duray and Hartz. In the race he ran away on his own, leading 109 laps before his engine threw a connecting rod. During the second half of the season Lockhart won five of six races in a row, and although he was beaten to the AAA title by Pete DePaolo it was clear that Lockhart was the fastest, most motivated driver of the day.

It was said of Lockhart that he had the ability to determine the dimensions of components simply by feeling them between his fingers. Right or wrong he fostered this image, working in great secrecy to all hours of the night.

By the autumn of 1927 Lockhart had become entranced with the idea of setting a land speed record and he sold car manufacturer Harry Stutz on the idea of building a LSR special with twin Miller straight-eight powerplants. In company with a briliant pair of engineer brothers named John and Zenas Weisel who had assisted him with his Champ cars, he set to work on the project.

With twin superchargers the 3 liter V16 produced more than 550 BHP at 8,300 rpm and tests at both the Curtiss Aircraft and US Army wind tunnels projected that the 2,700 lb car could exceed 280 mph. Called the Stutz Black Hawk, Lockhart's elegantly streamlined, white and silver car represented a revolution in size compared to the lumbering behemoths which dominated the record runs of those days in the hands of Englishmen Henry Seagrave and Sir Malcolm Campbell and American Ray Keech.

Lockhart first ran the Black Hawk on the sands of Daytona in adverse weather on February 28, 1928, only to crash into the sea. He narrowly escaped drowning and was taken to hospital suffering from severed tendons in one hand, shock and bad bruising, but two months later he was back for another try.

The beach was in poor shape and the AAA officials were anxious to leave but rival Ray Keech had set a new record at 207 mph only three days before and Lockhart was not to be diverted from his goal. Lockhart had switched from Firestone to Mason tires for this series of runs. In dire financial straights he felt compelled to accept $20,000 in sponsorship offered by the Mason Tire Company.

Slowly working up to speed Lockhart broke the 200 mph mark on his third pass down the beach, running against a headwind. At the end of the run he injudiciously locked-up his rear brakes. This caused the right rear tire to be cut by a shell in the sand.

Although it was accepted practice to undergo close examination of the tires after each run, this was not done on this occasion. It took a long time to remove the Black Hawk's wheel spats and Lockhart was eager to get back out there and get the job done.

After a quick, visual inspection he set off once more, twin superchargers wailing shrilly amid the ocean breeze. Charging down the beach just before 8 am that morning on his fourth run, trying to set an official record according to the rules, Lockhart's right rear tire exploded while he was doing an estimated 225 mph. The Black Hawk snapped one way, then another before slicing into the sand and recoiling through a series of lurid roll-overs.

The car just missed the crowd and came to rest near the feet of his distraught wife. This time there was no escape. Lockhart did not survive.

So ended at a mere 26 years of age, one of the most intense and remarkable careers in the history of automobile racing.