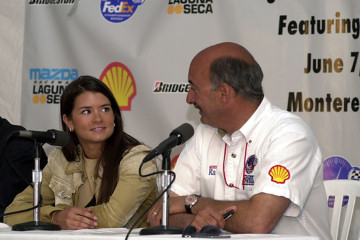 It was all happening in 2002 for 20-year old Danica Patrick. The attractive, petite young lady from suburban Chicago showed her stuff in England's tough Formula Ford school a few years ago, finishing second in the British Formula Festival in 2000 when she was just eighteen. Helped by the Ford Motor Company who want Patrick to be exposed to as many different types of racing cars as possible, she tested both Indy Lights and Toyota/Atlantic cars last winter, as well as a Focus-engined USAC midget and a Bob East midget. In the spring she beat Tommy Kendall to win the pro division of this year's Toyota Pro/Celebrity race at Long Beach. Since then her career has taken off. She's tested a ppc racing Busch Grand National car courtesy the Ford Motor Company, and has been signed by Bobby Rahal to drive in the Barber/Dodge series through the second half of this year and make her Toyota/Atlantic debut in two late-season races before running a full Toyota/Atlantic campaign next year.



Q: It must be very encouraging and satisfying to see many opportunities coming your way?

A: You work your whole life for a certain thing and it is pretty special when it starts to happen and Bobby has made that happen. I came back from England in the middle of last year with nothing really. I had the credentials of racing in Europe and what I'd done there but realistically I didn't know what I was going to do. I knew I wanted to do Atlantic and all it's been since then is pounding the streets, walking around, asking people what they're doing, asking them to help me. And I've developed a relationship with Bobby. He saw the determination so we've gone ahead. It's exciting, for sure.

Q: Why did you decide to go racing in Europe?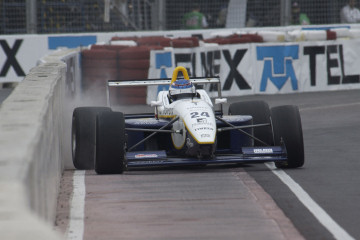 A: I just knew it was the best training ground. I knew that spending three years there was going to be a far better learning experience than spending three years here in the States. It's just a fact. We know it because of the number of races you can run and the amount of time you have on the track and the depth of the championship. They're knee-deep in driving talent from around the world. I just knew that was the best place to learn.

Q: Did that turn out to be the case?

A: So far, I haven't let myself down with anything I've tested or done, so it's living up to all its hype. Yeah, it's paying off.

Q: What were the primary things you learned in Europe, on and off the track?

A: On the track you have to be ready at all times for any kind of weather conditions, anything at all, and you have to be on it. When you're out there being a little bit off the pace it means you're fifteenth or sixteenth. Being a little off the pace here means you're fifth or sixth. I think that's what you learn over there, to be always on top form. And off the track you learn a lot about yourself and what you need to go fast. You're more aware of everything that goes on and you mature very quickly and learn how to handle things. It just gets you ready for life. It's like college. I guess I just did it a little bit early.

Q: By finishing second in the 2000 Formula Ford Festival, Patrick scored the best result of any American driver in the race's thirty-year history. Was that as big a moment is it appears on paper?

A: Yes, it really was the case. That one race was pretty special and it holds a lot of value with anybody who knows a lot about racing. For them, that one is the Big One in Formula Ford, especially in the respect of other drivers. If they've done it, they know what it takes to do well in that race. I've had a lot of respect from drivers in Indy cars, many of the Brazilians who've done the Festival. So I think one of the biggest things that comes from it is people at least believe in me. That's why I've been tested in so many different things I think. They're waiting for me to fail and it hasn't happened yet.

Q: This year's Long Beach Toyota Pro/Celebrity race really gave you a push as well.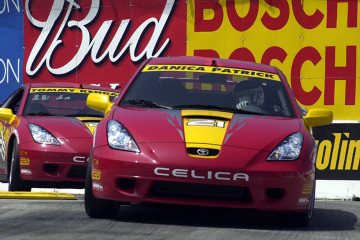 A: That was a do or die kind of situation. It really was. I was on the spot. To win that was going to make me go forward. If I were to get second I wouldn't be sitting here with the situation I'm in. Everybody believed that I could win, but they didn't know if I could win or not, and with all the media there and all the things we had to do it was an on the spot situation and I came through. As Bobby told me, I passed the test. So it was pretty important.

Q: What have you had to step up to as you've tested a couple of different types of midgets, a NASCAR Busch car, as well Indy Lights, Barber/Dodge and Toyota Atlantic cars?

A: Which one challenged me? They all have their own little challenges but I haven't actually got into one and said, 'Oh, I don't know if I can handle this.' I admit that the jump into the Indy Lights car from Formula Ford was kind of a big jump at first but it was like it took me a session to get used to the power. I went from 130 horsepower with no wings, no nothing to 450 horsepower of beef, and that was kinda of a shock, like wow! We've got some power now. But in the end it wasn't really any different. In fact, it was definitely good to have the power. If you can drive, you can drive, and I think the thing that's common with talented people is they can handle anything. They adapt.

I feel realy lucky that I've been able to drive so many things and have that big data base of what it's like to drive everything. I think it gives you a better grasp for a car. You can feel it out better when you've had all those different situations of feel. You can really put it all to work and try to get everything you want out of a car. By driving other types of cars you know what you want. It's like trying on clothes. You've got to know what size you need. If you test a lot of cars you know what you want.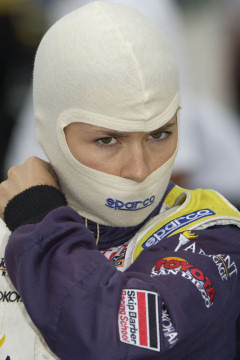 Q: Was the Busch car intimidating?

A: I know I need good brakes and I know I need soft tires because they have hard tires and they don't slow down very well! But I wasn't really shocked at that horsepower. Seven hundred horsepower did not feel like seven hundred horsepower. But I was pretty nsurprised with how many things there are to change on a Busch car. I though they were totally an elementary, very basic car. But, oh no! I hadn't even heard of some of the things they were changing on the car. So that surprised me. And the actual professional behavior and how good the team was. I was surpirsed at how well they worked.

Q: What about the physical demands of such a big, heavy car?

A: Not a problem at all. They have power steering. It gets hot in the car. It definitely pumps out a lot of heat, but other than that it was very easy to drive physically.

Q: Many people believe women can't compete with men on strength. You're a slim, trim young woman.

A: I will be tested again. I was tested when I drove the Barber/Dodge car for the first time. Their races take about forty minutes and I was out there for an hour. I did 56 laps straight and my 51st and 55th laps were my quickest. I can drive the thing, no problem. I wasn't tired. My hands need a little bit of conditioning. I've got a little bit of callousing going on but they're tough enough. They're ready. I haven't driven an open-wheel car since December, but no problem. I'm going to have to tip my trainer!

Q: What is your goal for this year?

A: The goal now is to go out there and get as much seat time as I can and then to do well. I want to win a race by the end of the year in the Barber cars. I'm hoping to start out running in the top five very consistently, get some podiums and win a race. I think that's a realistic plan.